Chalfont Paving Contractor – Chalfont PA
Call (215) 953-9535 for a Professional Chalfont Paving Contractor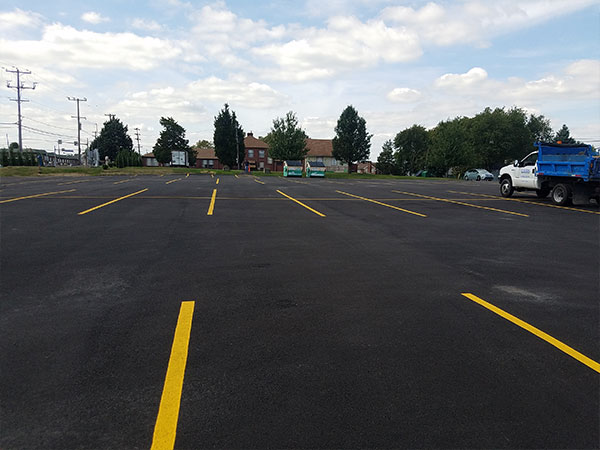 Chalfont Paving Contractors in Chalfont Pennsylvania
DiSandro Contractors Inc. is the leading Chalfont paving contractor that provides pavement repairs, asphalt paving services, commercial paving, and sealcoating in Chalfont PA. Our experts have provided driveway resurfacing, parking lot paving services and asphalt paving for residential and commercial clients in Chalfont, Pennsylvania and the Bucks County area for many years. We specialize in paving services for residential driveways, roadways, construction, parking lots, sealcoating and line striping. We have the equipment and experience to pave any project, regardless of size.
Our paving contractors are all professionally trained and are fully equipped to handle projects of any size in the Chalfont area. They all have the necessary knowledge and experience to complete paving projects and can provide exceptional service for residential homes, commercial parking lots and roadways. We have worked on small and large jobs on various properties and can also provide the pavement services for your new construction jobs. We can sealcoat your asphalt and can provide line striping services for your parking lot or roadway. When you need qualified paving contractors in Chalfont, PA, contact DiSandro for proper work done right.
---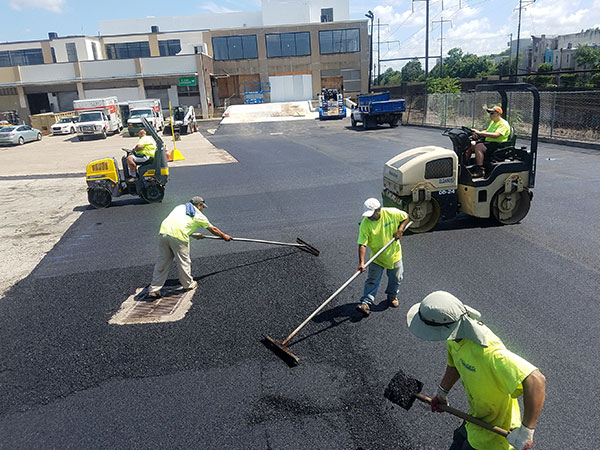 Chalfont Paving Contractor Services in Chalfont PA
From patching up a few damaged areas to completely repaving your driveway or parking lot in Chalfont, DiSandro has you covered every step of the way. Our experts will ensure that your freshly paved asphalt has the necessary foundation to last as long as possible. With proper maintenance, your pavement will last longer and will minimize the number of times you need asphalt repairs or resurfacing for it. Your property will also be more aesthetically pleasing with improved curb appeal with brand new asphalt from our paving contractors. Proper maintenance from us can help protect your driveway or parking lot from damage caused by inclement weather.
In addition to our quality paving services, when you call DiSandro for asphalt repairs or pavement services, we can provide accurate estimates before any work is done so that you know what you're paying for. We can inspect your property to come up with accurate numbers to provide the best service possible. We pride ourselves on our expertise and knowledge, so if there are any questions you have during the process, we are available to answer those for you. We can also offer any suggestions if you are unsure on anything. If you have a property in Chalfont, PA and need asphalt repairs or need pavement contractors, call (215) 953-9535 today for a quote on your project.
Our Chalfont Paving Contractors Provide the Following Services:
Residential Driveway Paving
Roadway Pavement
Pavement for New Construction
Commercial Parking Lot Paving
Sealcoating
Asphalt Milling
Asphalt Repair
Line Striping
Pavement Repair
Pothole Repair
If you are looking for Chalfont paving contractors or are in need of asphalt repairs, driveway pavement or parking lot paving services in Chalfont, PA 18914, call DiSandro Contractors Inc. at (215) 953-9535 or contact us today for a free estimate.
---
Interested in our Chalfont Paving Contractor services?
Contact Us Today For A Free Estimate
"*" indicates required fields
---

DiSandro Contractors, Inc.
226 Elmwood Ave
Feasterville-Trevose, PA 19053
Serving Chalfont PA & Bucks County PA
Monday-Friday: 7:00AM – 4:30PM
Phone: (215) 953-9535
---